Hello! Or Salve! in Latin. I'm JosĂ© da Silva, best known in the web by the artistic name of Jori Avlis. My roman name is Manius Iulius Silva, and I'm a proud member of a French reenactment group, the LEG VIII AUGUSTA association. As you can imagine, I'm passionate about the Roman Empire and his army, the famous Roman Legions. With my reenactment group, we propose to reenact a roman army from the Flavian period (years 69 to 96 AD), when Vespasian, Titus and Domitian were Emperors. It was in those times that the Colosseum was built in Rome and the Vesuvius destroyed Pompeii…
LEG VIII AUGUSTA
With our work, we give life to objects, to soldiers from the ancient LEG VIII AUGUSTA, a roman legion based in Gaul. We show to the public how a roman legionary was, how was his daily life, how the roman army managed to be the most powerful of ancient times: it is living History. We say :
a picture is worth a thousand words
We can show directly what a roman legionary was. Visually, it is much easier to understand the reality from other times.
Our reenactment troop is called by cities, schools, museums and anything else wishing to show roman soldiers. We can provide a small roman camp, with the tents, the artillery, engineering, military maneuvers, civil life… We are also called to illustrate books and TV documentaries, assuring to them historical accuracy, aware of the lasts archeological discoveries. We reenactors are the link between archeologists, historians and general public.
With InAciem.com, I want to keep somewhere in the web my personal reenactor diary. I will talk about reenactment and Roman Empire of course! "IN ACIEM" it's what our centurion shouts at us when we have to prepare to fight, drawing our swords. It's one of my favorite orders!
About me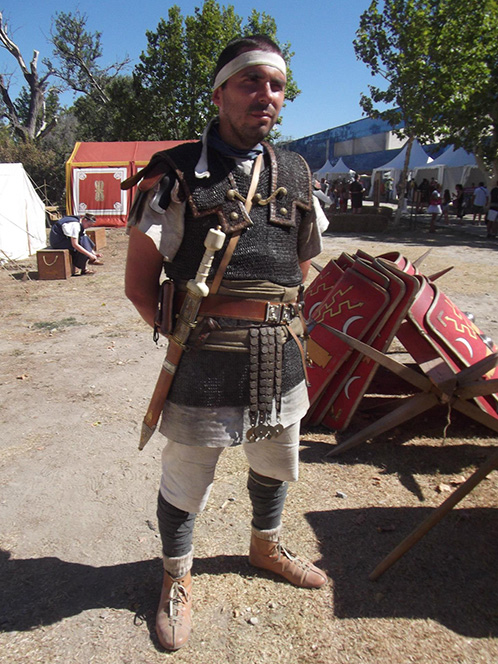 I'm a franco-portuguese (or luso-french) from Paris, web consultant and graphic artist. We at LEG VIII AUGUSTA, are from all professions, all social classes, all ages, with just one passion: Roman Army. With my website (design © by me), I will show you also some digital paintings and drawings. I also do a lot of photos, but since I'm a roman legionary reenactor, I cannot take my camera with me! When we are "on the job", we are 100% "like in ancient times", so no cameras, mobile phones, glasses and so.
Manius Iulius Silva, the legionary I am, is from Lutetia Parisiorum (modern Paris), of Lusitanian parents. The Silva family obtained the roman citizenship when their city of origin, Conimbriga, acquired the "civitas" (roman rights) with Augustus. He went to the LEG VIII AUGUSTA, based at Argentorate (modern Strasbourg), because being a soldier is the only way to have decent revenue, and also because his uncle, who fought in the conquest of Britannia is a family legend…
Post Scriptum: did I tell you that English was not my first language? Ho? You can tell? I thought so… :)